KATO SHOJIRO

        

●KATO SHOJIRO
1954 Born in Tokyo, Japan.
1976 B.F.A. in Japanese style painting, Tama Art University, Tokyo.
1978 M.F.A. in Japanese style painting, Graduate School of Tama Art University, Tokyo.
17 personal exhibits held in the USA and Asia.
Joined Yasui-Award Exhibition and Yasuda Art Foundation Art Exhibition.
Won the grand prize at the Asian Modern Art Exhibition and Japan-Seiko Art Exhibition.
Won the second grand prize at Kanagawa-ken Art Exhibition.
Stayed at Silpakorn University, Bangkok for a year with Japanese government grant.
Artworks are kept in Thai National Museum and Silpakorn University Art Center.
→Detailed career

●KATO SHOJIRO Website→http://www.kato.to

●Japanese/English
Personal exhibit "Mind Forest"
A personal exhibit, "Mind Forest," was held at Numthong Gallery in Bangkok from August 7th to 28th, 2004. Since the personal exhibit at the Japan Foundation Japan Cultural Center in 2001, five personal exhibits have been held in Bangkok Thailand. There are two reasons why I work based out of Thailand. One reason is to study Thai modern Art and the other is that I think Bangkok is the entrance to the Asian Art scene.
Numthong Gallery is one of the most important contemporary art galleries in Thailand. It has a strong network among Asian countries, such as Singapore, Malaysia and Japan. I think that a personal exhibit at this gallery is the same as announcing oneself to the world. Major Asian artists, such as Chatchai Puipia, Vasan Sitthiket and Kamin Lertchaiprasert visited at the gallery, and the largest English newspaper in Bangkok, "Bangkok Post" introduced the exhibition in the whole one page article.
In addition, during the personal exhibit, I got an invitation from a Chinese university to have personal exhibit in China and to have a lecture there. I decided to go to China in 2005.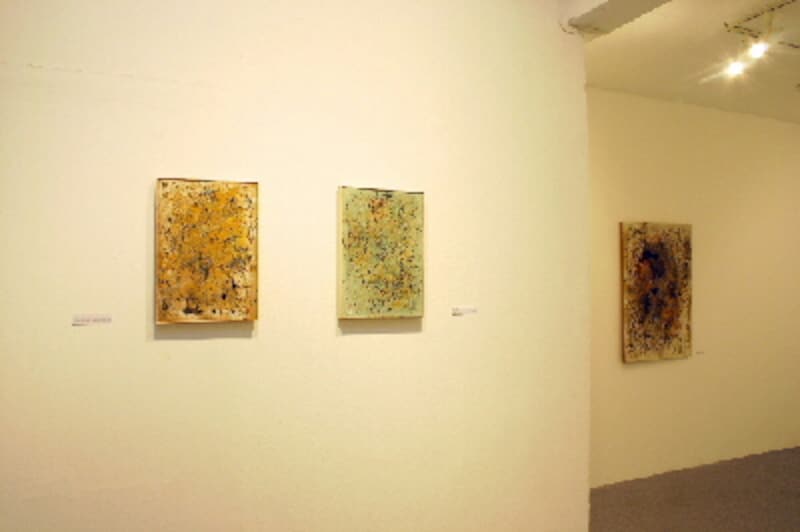 「MIND FOREST」07-28.Aug.2004 / Numthong Gallery, Bangkok
●Other images of the exhibition →
http://www5f.biglobe.ne.jp/~j-art/page041.html
●Website of Numthong Gallery →
http://www.rama9art.org/gallery/numthong/
What I want to express in my works
I stayed at Silpakorn University for a year from 2002 to study modern Thai Art with a grant from the Japanese government. During the stay, I visited Cambodia to see Angkor Wat because I was interested in the Khmer ruin in Thailand. I was impressed to discover the fact that the forest of the great Khmer ruin was also a killing field. I thought about human history all night long while watching the moon shining on the forest. Under the moonlight, the memories of the forest arose with my imagination, they showed me various scenes like heaven and hell that human finally arrived. For me, the forest seemed to be a meditation device telling us the human history.
After this experience, I was released from traditional material and technique of Japanese style painting, and then I started to draw simple paintings emphasizing imagination. The theme of the "MIND FOREST" series is a question where human has come and will go. The answer is in our memory that we took over from our ancestors. With my art as a device, I would like to stimulate audiences' memory and imagination and to illustrate human history and future. The role of my paintings is to give a sense of unity to everybody, who lives together in this new era. I believe, with our imagination, we can solve conflicts from differences in languages, cultures, religion and customs which exist all over the world.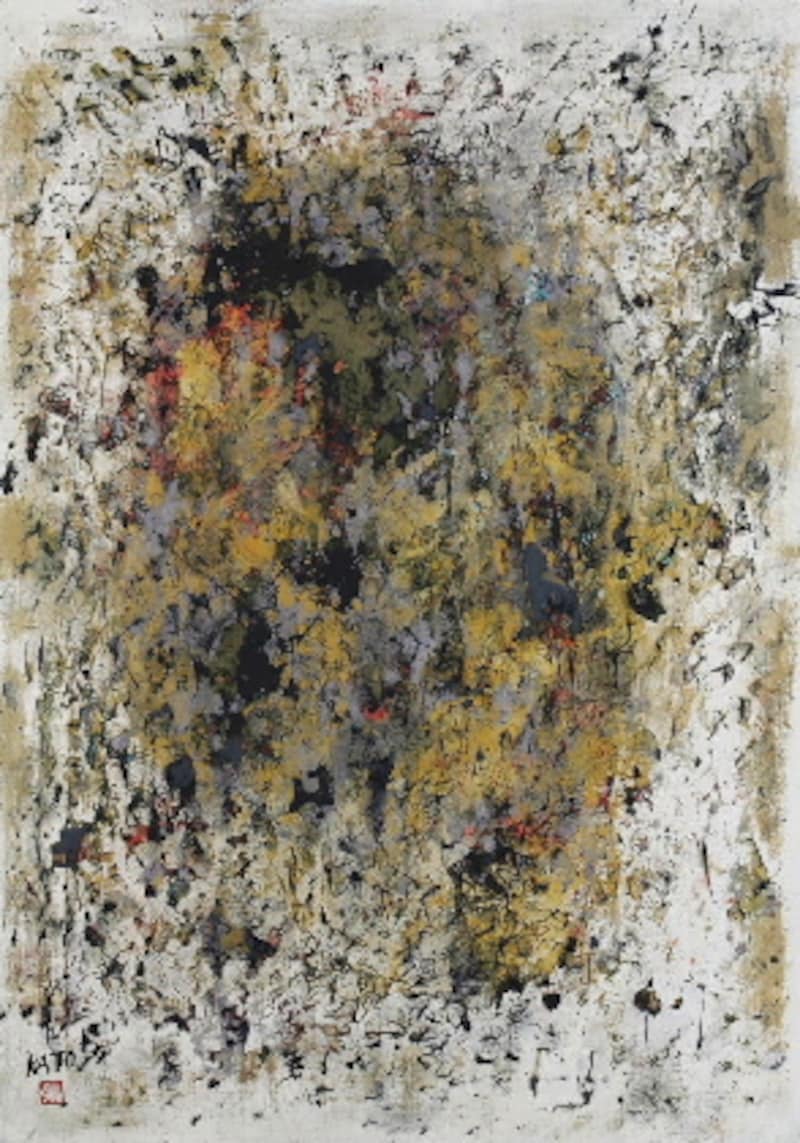 「MIND FOREST #6」103.0×72.8cm
Cotton cloth, powdered mineral pigment, shell powder, acrylic paint.
●
Other works of "MIND FOREST" series
---
■
portrait index